The system uses carbon dioxide, clean agents and other suppression agents which never harm to sensitive electrical devices as well as human lives. We "SEA MAX FIRE ENGINEERING WORKS" ENGAGED IN Turnkey projects designing, installation, commissioning & testing of All Type of Automatic Fire Suppression Systems( gas/chemical based) like Automatic Clean Agent Fire Suppression System, Automatic CO2 fire suppression system, High Pressure CO2 fire protection system, Automatic AFFF Foam Fire Suppression systems, Fire Suppression Systems, Automatic Foam Flooding Systems, Automatic foam fire suppression systems,Co2 Gas Flooding Systems, Automatic Foam Total Flooding Systems, Automatic Co2 Fire Suppression Systems, Automatic AFFF Foam Flooding Systems for server room, data centers, computer rooms, Paint Booth, Gas Turbine, High Pressure, Sprey Booth.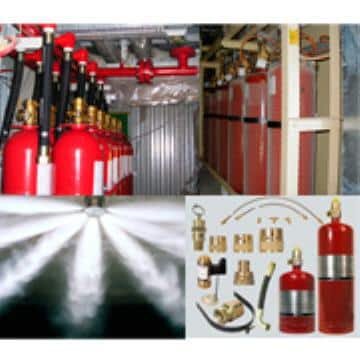 Automatic Fire Suppression System
Sea Max Fire Engineering Works provide A broad range of 
CO2 Fire Suppression System
CO2 Fire Suppression System uses carbon dioxide which is very economic and can be used for total flooding system when an area is attacked by intense fire. The co2 gas has higher ratio of expansion which facilitates rapid discharge and allows for three dimensional penetration of the entire hazard area quickly. Co2 protects the area and instantly stops the intensity of fire by reducing the content of oxygen. With no residue left behind, the CO2 Fire Suppression System does not damage any sensitive electronic machine. The device can protect a large area which is attacked by fire hazards. Besides, we have expertise in manufacturing CO2 Fire Suppression Systems as well as safely installing them so that these neither cause damage to the electronic machines nor the human life.
The Foam Flooding Systems are similar to Water Mist fire suppression systems but use an expanding foam solution mixed with water to extinguish the fire.
Range of Automatic Fire Suppression Systems
HFC-227 Fire Suppression Systems

Clean Agent Fire Suppression System

CO2 Fire Suppression System

Foam Fire Flooding System

AFFF Foam Flooding System

Fire Suppression System for server rooms

Fire Suppression System for data centers

Fire Suppression System for computer rooms
Advantages of foam suppression
Foam suppression systems are useful for companies which cannot afford the expensive tank and pump system to operate the sprinklers or for when there is a particularly high risk of high flammable liquid which may need cover. Automatic or manual fire detection can be used to release a foam and water mixture which will expand on release of the agent and give a large fire rating cover without the need for large storage or pump tanks.
Applications of foam suppression
Applications for a Foam Flooding System include oil and chemical storage cylos or tanks and areas which require sprinklers but without the expense of a tank and pumping system.
Foam systems protect virtually any hazard where flammable liquids are present. These hazards are common to a multitude of industries including Petrochemical, Chemical, Oil and Gas, Aviation, Marine/Offshore, Manufacturing, Utilities, Military, and Transportation. Flammable Liquid Storage
Loading Racks
Processing Areas
Refineries
Dike Areas
Aircraft Hangars
Heliports
Jet Engine Test
Facilities
LNG
Storage/Manufacturing
Marine Applications
Warehouses
 In Delhi, Okhla, New Delhi, UP, NCR, Noida, Gurgaon, Faridabad, Kundli, Sonipat, Panipat, Ghaziabad, Uttar Pradesh,We have Terrific Engineers for Supplying, designing, Installation, Testing & commissioning of Turnkey Projects of Fire Suppression systems for server rooms, data centers, computer rooms and Fire Fighting System by the codes under the NFPA .